Keep all your media content up to date with ViMediaManager. This tool will store and manage information, extra art, trailers and refine for your movie, 0 Comments. November 26, 2019 TOOLS. Media Companion. This amazing tool was started by Billyad2000 and is now ran by many developers in the open source community. ViMediaManager is a media manager for Mac OS X, allowing you to gather, store, and manage information, extra art, trailers and television tunes for your movie, television and anime collections, and can be used on it's own, or in combination with Kodi.
TVDB Searching, Fetching series info and episode info have been changed to support API v3. Matches TV episodes which use the absolute numbering system in their filenames. (Anime support) Changing the rating of a movie or TV show now changes the 'userrating' instead, and is saved across info updates.
ViMediaManager ViMediaManager is a media manager for Mac OS X, allowing you to gather, store, and manage information, extra art, trailers and television tunes for your movie, television etc for use with for example XBMC. Leapfrog 3D printers Manufacturer of the great Creatr and Xeed 3D printers - Stunning customer service!! 0xED - Hex Editor.
This is a guide I set up for a few people who were asking how I set up my music video library. I figured some of you music video fanatics might get some use out of it too.
It's kind of hacky and a bit fiddly to set up, but the library looks pretty good, contains the basic information plus some, and you can play music videos on shuffle! YAY!
First off, we have to make .nfo files for each of the music videos. Yeah, it's a pain, but we are trying to make it look as pretty as possible, and this way we can add all kinds of information for each video.
I use ViMediaManager (Mac) to create the .nfo files. I'm sure there are similar programs for other operating systems out there. If anyone out there knows of some good ones, feel free to leave a reply with links.
This is the fiddly part and the instructions may vary according to the program you use. With ViMediaManager, in order to make an .nfo file for each video, we have to set up the videos on the hard drive as movies. That is, one music video in a folder by the same name, like this:
This is the minimum amount of info we put in for each music video. If we know the exact date of release, we add that too, but if we don't, we should put in a month and day. I use January 1st. This allows us to sort by date correctly in Plex:
This gives us an .nfo file alongside the music video:
Once you have all the .nfo files alongside the videos, add them to artist folders in your main Music Videos folder. If there's two or more videos for one artist, put them all in the same Artist folder, like this:
I keep all my music videos in one main folder so Plex can add the videos to it's Music libraries. I let Plex know the path to that folder as directed here (under "Configure Local Media Assets Agent"): https://support.plex.tv/hc/en-us/articles/205568377-Adding-Local-Artist-and-Music-Videos
That way Plex can use the folder for the Music libraries and we can use the folder for our special Music Videos library.

Vimediamanager For Windows
Now you can create a new Library called "Music Videos" (or whatever you want) with the kind as "Movies". Add the Music Videos folder that we set up above, and set the library to use Plex Movie Scanner & XBMCnfoMoviesImporter to scan in the files.
You'll get a relatively pretty library that looks like this:
With lots of details and descriptions if you want:
Vimediamanager Os X
And you can set it to play videos one after another in shuffle mode! Party out of bounds!
Vimediamanager Mac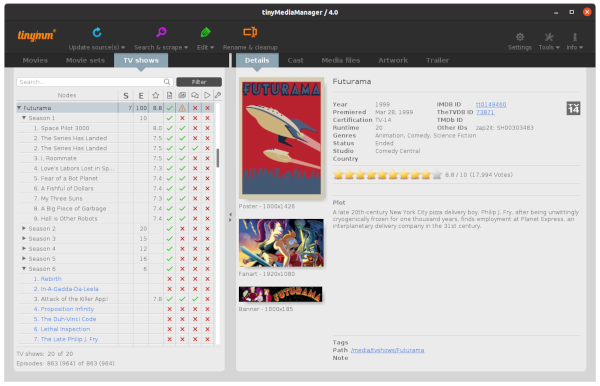 I think it's fairly useable until Plex adds a real Music Video library section.
Let me know what you think and if you have any suggestions for making it better!