Free Syncios Download for Android, iOS, Mac and Windows
Older versions of Syncios Manager It's not uncommon for the latest version of an app to cause problems when installed on older smartphones. Sometimes newer versions of apps may not work with your device due to system incompatibilities. Until the app developer has fixed the problem, try using an older version of the app.
'Syncios is a tool that allows you to manage your iOS and Android device with great ease. It's always challenging to try and transfer music, photos, and apps from your PC to your mobile device. Most of the time this can be very tedious and challenging, and that's why Syncios can be a very good tool.'
Overall, Syncios is a great asset to any owner of an iOS or Android device, and it's completely free. Syncios Video Guide. IOS synchronization IPhone backup IPod to PC IOS Transfer.
Syncios is the free Transfer Tool for syncing iPod, iPhone or iPad directly. It provides the ultimate transfer solution between iOS devices and PC for users. As an iOS manager which is specially designed for iOS devices users, Syncios allows you to transfer and manage your apps, photos, music, ringtone, audiobooks, videos, TV shows, MV.
Syncios offers the ultimate file transfer solution among iOS, Mac OS X, Windows and Android. It brings a package of smart software for the users consists of
Since Syncios is able to support iPhones, iPods and iPads to manage the files occupied, it is best known as an iTunes alternative. Not only that but also it supports Samsung, HTC, Sony, Huawei, ZTE, acer, Google, LG and Motorola mobiles as well.
Syncios.com
Download Syncios Manager
Syncios manager download supports Windows Vista, Windows 7, Windows 8 and Windows 10 of both 64 and 32 bit versions. As the other system requirements it needs a CPU of 750MHz Intel or AMD CPU, RAM being 256 MB or above with the free disk space expands to 200 MB or more.
Syncios Mac version supports only iOS devices while the compatible MAC OS X versions being Mac OS X 10.9, 10.10, 10.11 or above version including the latest 10.12.3. It needs a CPU with Intel Core with the speed of 1GHz or faster with a free hard disk space of 1 GB or above.
In addition to that Syncios supports iOS versions of iOS 5, iOS 6, iOS 7, iOS 8, iOS 9 and iOS 10.
Syncios Android version supports Android 2.1 to Android 7.0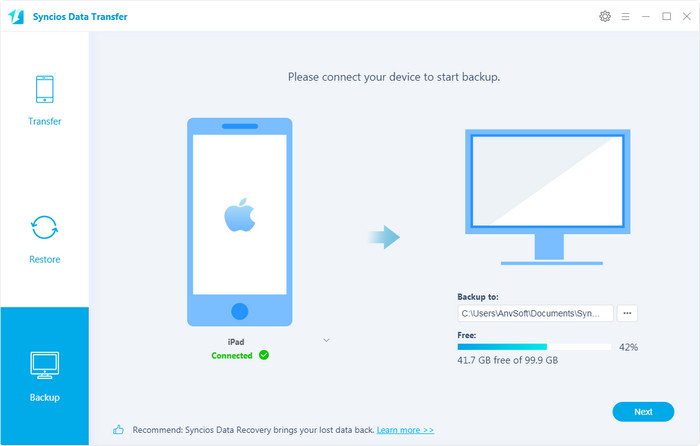 (password - syncios.org)
Download Syncios Mobile Data Transfer
Syncios mobile data transfer is compatible with Windows Vista, Windows 8, Windows 8.1 and Windows 10. The CPU must be a 750MHz Intel or AMD CPU with RAM 256MB or higher. Syncios recommends to have a free disk space of 200MB or more to run the software.
The compatible operating Systems for Syncios data manager mac version are Mac OS X 10.9, 10.10, 10.11 or above with the latest 10.12.3 with the CPU of Intel Core 1GHz or faster. The free hard disk space need is 1GB or above.
It is also compatible with Android 2.1 to Android 7.0 versions and iOS 5, iOS 6, iOS 7, iOS 7.1, iOS 8, iOS 9 and iOS 10 versions.
Download Syncios Data Recovery
Windows version supports Windows Vista, Windows 8, Windows 8.1 and Windows 10 of both 32 and 64 bit versions. The CPU, Syncios recommends is 1GHz (64 bit or 32 bit) with a RAM of 256 MB or above while the free disk space of 256 MB or above, but the recommended space is 1GB.
Syncios Data Transfer Free Download
Syncios iPhone data recovery Mac version requires the system to run with Mac OS X 10.9, 10.10, 10.11 or above including the latest 10.12.3. The CPU must be Intel Core 1GHz or faster with the hard disk space of 1GB and above.
(password - syncios.org)
Download Syncios Free
Syncios offers two versions for its users to download, Syncios free version and Syncios Ultimate versions. Syncios free version delivers all three software but the embedded facilities are less with compared to Syncios Ultimate version. You can Get Syncios free version for all the android and iOS devices and PCs with Windows and Mac OS X.
Download Syncios free, iTunes alternative, a simple and all in one software for the best file management across multiple operating systems.
Syncios is devoted to providing the first rate products and iOS & Android mobile data service. If you have any questions or suggestions, please don't hesitate to contact us. Any advice is welcomed and highly appreciated.
Registration Support
If the registration code you received shows invalid or cannot be registered for other reasons, please refer to the Registration FAQ. If you do not receive the registration code after payment, please contact customer service directly. We will contact you within 48 hours for assistance.
Technical Support
If you meet any problems or difficulties when using Syncios program, please be free to contact our support team with your detailed question, as well as the product version.
Please understand that we do not provide dedicated phone support and that email is usually much faster and easier. Also, please check out the frequently asked questions online first.
Upgrade Support
We are regularly upgrading our products to better serve our customers. If you purchased our program, you can enjoy free subsequent upgrades of the program. When there is any update, you just need to check for updates in the program. Follow our Syncios Facebook Official where Syncios will post the latest program upgrade information. Or by subscribing to Syncios Newsletter, we will send you real-time critical upgrades, tips & tricks and special offers.
Any other issues, please feel free to contact us via: [email protected]
Syncios Data Transfer
Or you can also find us on: